I was taken into the French farm world with is magnificent book. One of the best! It is divided by season with enchanting tales of her life, French food and people accompanied by the most beautiful pictures I have ever laid my eyes on or ever will!!
Yesterday my mother, a friend and I sat down and had a delightful hour of gazing at the beautiful pictures! My mother kept saying " You should have given this to me for my birthday!"
This is a very recent cookbook that just came out this month! Already I have a long list of satisfying recipes to try and today we will have chicken, garlic soup, potatoes and vegetables.
I truly enjoyed her stories of food, people, and life in the French countryside. Her husband's beautiful photography not only augmented her stories but transported me to Medo
Chou farçi
One of my favorite things to serve alongside meat is braised Savoy cabbage. Wonderful things happen when you cook this bitter vegetable with butter and let all the flavors come out. This little dish is really a variation of serving meat with cabbage—it's all wrapped together in a pretty parcel. Serve it on its own, as a weekend lunch, or as an appetizer for a decadent feast. It's the sort of dish that will make those at your table wonder, "If this is the starter, what are we having for the main course?"
Serves 6
1 head Savoy cabbage
Unsalted butter, for the pan
2 tablespoons olive oil
1 onion, thinly sliced
2 carrots, finely diced
2/3 pound/300 g ground beef
2/3 pound/300 g good-quality pork sausage meat
2 garlic cloves, thinly sliced
2 to 3 sprigs of thyme
1 bay leaf
½ teaspoon Rabelais spice or ground allspice
Fine sea salt and freshly ground pepper
½ (7-ounce/200-g) can whole tomatoes, crushed, with their juices
1 large egg
Bring a pot of salted water to a boil. Meanwhile, core the cabbage leaves and separate them, discarding any coarse outer ones. Cook the leaves in boiling water for 8 minutes. Drain and set aside to cool.
Grease the bottom and sides of a deep 7-inch/18-cm soufflé dish or charlotte mold with butter. Put a large pretty cabbage leaf, domed side down, in the dish. Top with another leaf and continue arranging the leaves one on top of another until the entire base and sides are covered. You won't use all of the leaves at this point (reserve enough for 4 or 5 layers).
Heat the olive oil in a large sauté pan over medium heat. Cook the onion and carrots until softened, 4 minutes. Add the ground beef, sausage, garlic, thyme, bay leaf, spice and season with salt and pepper to taste and cook, stirring once or twice, until the meat is browned.
Pour in the crushed tomatoes, with their juices, and simmer until nearly all the liquid has been absorbed, about 5 minutes. Transfer the mixture to a bowl and let cool.
Preheat the oven to 350°F/180°C.
When mixture has cooled, discard the thyme and bay leaf. Add the egg and mix well.
Put a layer of about ½ inch/ 1 cm of the meat in the cabbage-lined dish and top with a cabbage leaf. Repeat until you've used all of the meat and filled the dish, about 4 layers. Finish with a final layer of cabbage, making sure to tuck in the leaf on all sides.
Bake for 40 minutes. To unmold, invert a plate over the soufflé dish, flip the plate and dish, and remove the mold. Serve immediately, cut into slices.
Note: Rabelais spice is a mix of allspice, nutmeg and curry – a traditional spice in France since 1820.
You really must take a look at her blog as it is a taste of what her cookbook is!
http://mimithorisson.com/
With beguiling recipes and sumptuous photography, A Kitchen in France transports readers to the French countryside and marks the debut of a captivating new voice in cooking.
I must say that I took a walk in her garden with the authur their 7 chidlren and 14 dogs and longed with a new pssion to visit France! Go to Amazon ( http://www.amazon.com/Kitchen-France-Year-Cooking-Farmhouse/dp/080418559X/ref=sr_1_1?ie=UTF8&qid=1414848694&sr=8-1&keywords=A+Kitchen+in+France+by+Mimi+Thorisson) to download a few really yummy looking recipes such as
mushroom tarts and vegetable tian
When one thinks of France we think exotic recipes such as Snail ( there is one such recipe in this book) and dishes which are more on look then taste but this cookbook will blow you away, These dishes can and must be made in American kitchens.
This book is truly gorgeous. It is worthy of the coffee table but will be used in the kitchen . Lets go make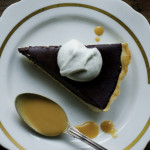 chocolate tart. Oh wait a minute I must read yet another page of this book for I am being drawn into world like non other.
I received this book from
Blogging for Books
for this review."