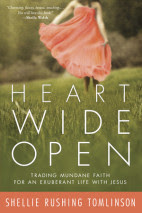 I've been so blessed to be able to read Shellie Rushing Tomlinson's book, "Heart Wide Open, Trading Mundane Faith For An Exuberant Life With Jesus".
hellie says, well "churched" growing up; I know all the stories, the hymns, the do's and don'ts, and I've never strayed far from the expected path. I thought I had a great relationship with Jesus. I memorized a lot of bible verses, had a pretty good amount of faith, and truly wanted to do what I thought was right. But I had issues with grace. If I had to be really honest, it was a hard concept for me to grasp that that I didn't have to "be good" to "be saved, and stay saved".
For many who have grown up in the church, faith may become mundane and relegated to the Sunday worship service
author illustrates how we can go about pursuing God as a life long adventure. Some of the ways discussed include finding courage and hope through the power of the Holy Spirit; realizing it is not how much of the Bible we get through, but how much of the Bible gets through to us; looking for God's presence with us throughout the day and not just in our quiet time; and how obedience is the greatest expression of our love for God. Other chapters discuss celebrating grace in our lives and extending grace to others and the need to encourage each other on our spiritual journeys..
I would not perches as you read it once you are done but it is good!
Shellie Rushing Tomlinson is the author of the award-winning nonfiction humor titles Suck Your Stomach In and Put Some Color On and Sue Ellen's Girl Ain't Fat, She Just Weighs Heavy! She is a popular blogger and speaker, and the host of the radio program All Things Southern LIVE. Shellie loves sharing humor and hope with audiences across the country. She and her husband have two grown children. They live and farm in Louisiana. - See more at: http://waterbrookmultnomah.com/author-spotlight.php?authorid=184028#sthash.uJKp6zin.dpuf